CKI LAUNCHES 2022 'FUSION' PROMOTION
Wednesday, 7 September 2022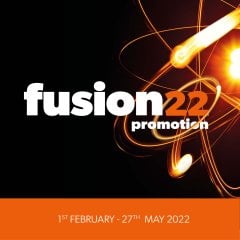 We're giving you another reason to ensure your customers have access to the best tools for the job, through our 2022 Fusion promotion and incentives scheme!
Live now and running until the 27 May 2022, Fusion is offering merchants and wholesalers a welcome profit boost for the first half of the year with 180 products on promotion across the C.K Tools, C.K Magma, C.K Classic, Avit and Kasp Security brands.
With discounts of up to 65%, we are also offering sign up rewards, a new connected reward scheme with our Q4 Magnetic promotion, access to promotion exclusive items and sales driving POS all for an extremely low initial order value, making this our most standout Fusion promotion to date.
Mark Raines, Head of Marketing at CKI, said: "With more than 200 years of heritage in the trade, we understand the importance to our customers of getting a strong bottom line established in the first half of the year. Fusion is our way of supporting them and ensuring this can be achieved through the perfect promotional mix of proven sellers, core items, full ranges and great value deals."
To enable easy participation, Fusion has a minimum sign-up of £300 for first order only, after which customers can place as many orders as they want, at any value they want, and across as many or little product lines as they want.
Furthermore, we've created a cross-promotion reward scheme between our Fusion and Magnetic promotions, enabling you to get an early start on end of year vouchers and free-of-charge stock accruals, by purchasing during this current promotion.
For further information on the terms and conditions of Fusion 2022, visit www.carlkammerling.com/fusion_2022/ or to sign up please contact your sales representative or call customer services on 01758 701070 for more information.