Lighten your Workload with C.K Magma's Technician's PRO Wheeled Case
Thursday, 27 February 2020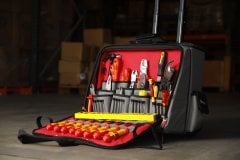 Following the success of its range of premium storage toolcases, C.K Magma is launching its Technician's PRO Wheeled Case (MA2652). Set to be a firm favourite with professionals whose work requires them to regularly transport a heavy toolkit, this high quality Technician's PRO Wheeled Case combines great features and benefits to make every task that much easier. Ideal for all terrain use, this innovative toolcase offers more storage than ever before and will effortlessly transport a fully laden toolkit which, with test equipment and power tools, can top 20kg.
In addition, back problems are a significant cause of loss of working days for all trades. With that in mind, the C.K Magma Technician's PRO Wheeled Case offers the perfect solution for those unable to get their vehicle close to a particular job and would normally have a long, tiring walk carrying a heavy toolkit.
Great Product Features and Benefits
The balanced design of this quality toolcase includes a rugged and durable chassis, wheels and a telescopic handle, all designed to allow the effortless movement of larger toolkits, test equipment and power tools.
More storage now includes 50 pockets/compartments, with popular vertical pockets for clear visibility and organisation of tools, with other quality features including: Adjustable straps for easier access to main pocket compartment; lockable zip system for extra security; an extra wide main compartment with a red lining for high visibility; a hard protective divider between tools and test equipment; and a zip down front panel featuring tool and A4 document storage;
Tina Skinner, Marketing Director at CKI, comments: "The C.K Magma Technician's PRO Wheeled Case has been introduced, thanks to regular research and feedback from professional users. More recently, this has highlighted ease of transportation of a heavy toolkit to any location; a demand for more vertical storage and pockets to give easier access and clear visibility of tools; together with a large storage compartment for equipment such as test meters. We believe this new addition will make a real difference for professionals who are looking for high quality and efficient portable tool storage equipment."
The perfect solution for professionals who need to transport a fully laden toolkit to complete their work, the C.K Magma Technician's Wheeled Toolcase is available with a RRP of £159.48 (ex VAT).